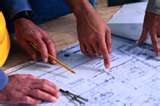 From its inception in 1986, Russell Building & Remodeling has sought to deliver the highest level of craftsmanship to residential and commercial remodeling projects. It soon become clear that kitchen and bathroom remodeling was an area in which we would want to specialize in and Bath Excellence was born. We pride ourselves on our knowledge of historical and structural renovations, familiarity with interior finishes, and our continuing effort to improve our professional skill through our participation in industry workshops, conventions, and continuing education.
We treat your project with the respect it deserves and go out of our way to make the job as quick and painless for you as possible. We leave the site clean and safe on a daily basis and when we're done all you'll be left with is a beautiful bathroom. We will be left with another excellent reference.

"We expanded our house to make a half bath into a whole bath with glass shower enclosure and expanded an adjacent bedroom. From start to finish, working with John was a pleasure. He is knowledgeable and professional. He responded quickly to our request for an estimate. When we decided on his company, the contract was explained clearly and included starting and ending dates to which he adhered. John didn't start the project and disappear for days at a time like some builders. John obtained all necessary building permits, and we were kept advised of when the city inspector was coming. If I decided I wanted a certain thing, and John didn't agree, he would explain why the request was a poor idea. His experience was invaluable. Meshing a new addition to an older house can present unexpected problems which an experienced builder picks up on immediately and knows how to correct. John's tile work is impressive. He was able to maneuver borders and layouts to they came out just right. John worked with his own team of foundation people, plumbers/heating people, and electricians who made the length of the project go more quickly since I was not responsible for coordinating this work. John is trustworthy, and we were never afraid to go out and leave him alone in our home. Overall, I would recommend the quality of John's work, his professionalism, experience, and trustworthiness and would have no hesitation recommending him."
Jim & Ellyn Doris